Most Shooting Industry Companies Invest Less than 4% in Marketing and Advertising
Under 4% Spent on Advertising from Growth Strategy Partners Survey
Growth Strategy Partners recently conducted a webinar sponsored by the National Association of Sporting Goods Wholesalers on Getting More Bang from Your Bucks in Marketing and Advertising. In this webinar they surveyed attendees on how much they invested in marketing and advertising and what their top marketing challenge was.
According to the survey, 55% of companies invest less than 4% of sales in advertising and marketing.  From the chart below you can see that 5% of companies invest from 4% to 6.9% of sales and that 25% invest between 7% and 10.9%.  15% didn't know their investment levels. 
When asked what their top marketing and advertising challenge was, 41% stated 'obtaining the budget to accomplish the goals' while 30% identified 'differentiating your products and services from others'.   'Developing realistic goals' received 17% of the vote while 'defining specific customer segments' and 'finding competent marketing and advertising people/firms' received 6% each.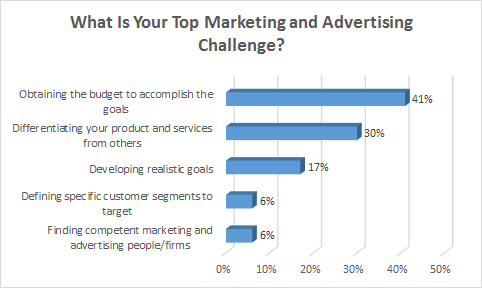 "I'm not surprised many companies are challenged with differentiating their products or services", states Chris DiCenso, Managing Partner of Growth Strategy Partners. ""Based on the ads and communications I've been seeing; I have a hard time figuring out what many companies are selling."
The webinar, facilitated by Chris DiCenso and George Harris from Growth Strategy Partners with guest speakers Trent Cooper and Nathan Engelking from CrossBreed Holsters and Roy Huntington from FMG Publications, discuss how to establish realistic marketing and advertising goals, how to differentiate your messaging, how to select customer segments to market to and how to measure the results of your campaigns.  Examples of successful and less successful ads were presented.
The webinar was recorded and can be viewed by visiting our webinar section.
To improve your marketing and advertising success or learn more about Growth Strategy Partners, please visit www.GrowthStrategyPartners.com or contact Chris DiCenso at 781.837.3276 or CDiCenso@GrowthStrategyPartners.com
Growth Strategy Partners is a management consulting firm which accelerates the revenue, profit and talent growth of shooting industry companies by applying its research driven 7 Keys to Growth.